Gadir, Escuela Internacional de Español
Perfil de Facebook:
www.facebook.com/GadirEscuela
Perfil de Twitter:
www.twitter.com/ESCUELAGADIR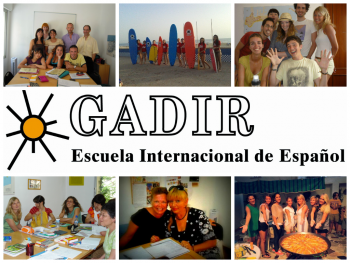 GADIR, Escuela Internacional de Español was founded in Cádiz in 1989 and is an average-sized school, where all the pupils, teachers and organisers know each other from the very first day. Our main aim is to ensure that your time with us enables you to speak, think and feel in Spanish.
The quality of the GADIR courses is guaranteed by the most prestigious Institutions such as Instituto Cervantes, CSN, Bildungsurlaub and FEDELE. GADIR is situated in an independent building in the district of the Bahía Blanca, only a few minutes away from the historic city centre and the beach. Our school has seven teaching rooms, a lounge, a library, a video library, a garden and a patio, all for the use of our students.
GADIR, Escuela Internacional de Español offers you:
- More than 20 years of teaching experience
- Fully-qualified native Spanish teachers
- High Quality Spanish Courses throughout the year in an independent building with a garden and a patio.
- Small group size: maximum 8 students per group.
- Free WIFI connection in the whole school.
- Tailor-made courses for groups, teachers, etc. 
- Extracurricular activities such as excursions, visits, flamenco courses, etc.
- Language "exchanges" with native Spanish students during your stay.
- Accommodation in Spanish families, shared apartments, hotels, hostels, etc.