Clic International House Cádiz
Perfil de Facebook:
wwww.facebook.com/cliccadiz
Perfil de Twitter:
www.twitter.com/cliccadiz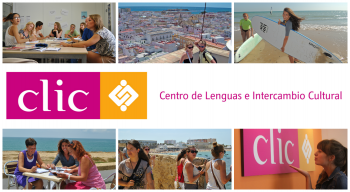 Why Clic International House?
An amazing opportunity to make friends with people from around the world: studying and learning Spanish at clic International House is a great opportunity to meet other students from a wide variety of countries. Clic International House facilitates this by organising a wide range of cultural and social events. We are a language school which provides Spanish classes to foreign students as well as English, French and German classes to local students.
An unrivalled selection of courses and levels adaptable to individual needs: clic International House offers courses of every level all year round.  These range from General Spanish, Spanish + Surf,  preparation for the official DELE, summer courses for teenagers, courses for adults aged +50 and much more.
An outstanding teaching staff: a dynamic, motivated, and highly qualified teaching staff with considerable experience in the teaching of Spanish. Teachers who enjoy their work and are sensitive to the cultural diversity and background of their students.
A great choice of cultural activities: trips to other cities in Andalusia and Morocco, visits to museums, walks around the city, movie screenings, and exchanges with Spanish students who are learning other foreign languages at clic ih are just some examples of extras which complete your learning experience.
A high quality and remarkable learning environment in exceptional facilities: Clic International House Cádiz is just a stone´s throw from the beach in the area of Bahia Blanca, a residential and commercial district situated next to the historical centre. The school has been refurbished and equipped with high quality equipment and furniture. It is located on the ground and first floors of a modern and spacious block.