Edificio Constitución 1812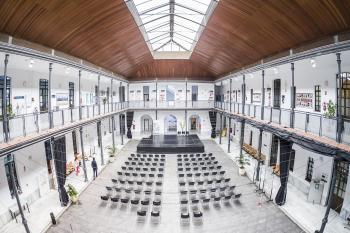 The building is located in the former La Bomba Barracks and is the Exhibition Room of Cadiz University.
The famous La Bomba Lecture Room, renamed the 1812 Constitution Building to mark the Bicentenary Commemoration, is one of the best known sites of the city of Cadiz.
It is a building with 5 rooms, each one of which is named after a character related to that era: Manuel José Quintana, Mejía Lequerica, Tomasa Palafox, Agustín Argüelles and Simón Bolívar. It also has the Kursala Exhibition Room that is periodically used to exhibit photography work by established and new photographers.
Horario:
De lunes a viernes de 09.00 a 21.00 h
Servicios:



Dirección:
Paseo Carlos III, nº 3 (Acceso adaptado)
Perfil de Facebook:
https://es-es.facebook.com/visitcadiz
Perfil de Twitter:
https://twitter.com/VisitCadiz
Eventos en este espacio cultural.
14/10/2019


Campus Rock

Horario: Todos los conciertos comenzarán a las 21 horas
Leer+