The Admiral´s House
Categoría:
Monuments and places of interest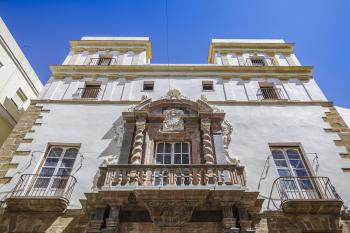 Built in 1685 by Diego de Barrio, Admiral of the Indies Fleet, it is one of the finest examples of the houses of the shippers to the Indies to still be found the city. It consists of three structures topped by two watchtowers that can be considered to be among the oldest of those still to be found in the zone.
It is noted for its large Baroque entrance, make out of Genoese red marble, which is made up of two structures; the lower one frames the entrance opening with paired Tuscan columns; the second uses Solomonic  columns to frame the central balcony on which there is a large curved pediment that bears the coat-of-arms of the Barrios family.
Dirección:
Plza. de San Martín, nº 3
Perfil de Facebook:
https://es-es.facebook.com/visitcadiz
Perfil de Twitter:
https://twitter.com/VisitCadiz