Alameda Apodaca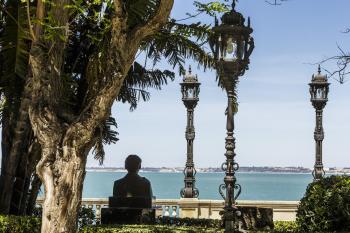 This promenade, battered by the storms, runs along the city ramparts overlooking the bay. Since the 17th century, it has been one of the most popular places in the city.  Down through the years, it has undergone many reforms, but its current appearance dates back to 1926.
It is an example of the eclectic style of Regionalism. Special mention should be made of a succession of areas decorated with Seville ceramic tiles and wrought ironwork that does not stop you enjoying the views of the sea.  The design and arrangement of the lampposts along the balustrade are one of its particular features.
The monument to the Marquis of Comillas, designed by Antonio Parera y Saurina in 1919, is located in one of its areas. A finishing touch is a graceful winged goddess of victory, who rests on a high pillar, whose base is decorated with sculptures and reliefs.
Perfil de Facebook:
https://es-es.facebook.com/visitcadiz
Perfil de Twitter:
https://twitter.com/VisitCadiz