Ancient Roman Salting Factory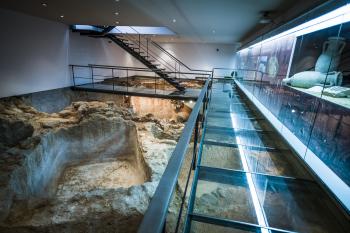 A large Roman salting factory was unearthed under the old Andalucia Theatre in 1995 and part of the factory has been kept intact in the basement of the new building.
This factory was built on the banks of one of the arms of the old Bay-Caleta channel and ran until the start of the 4th century A.D. It was laid out around a large courtyard, under which there was a cistern, where the "graffiti" of the lighthouse were located and which are now kept in the Museum of Cadiz. The preserved area is a sector of different sized basins, which as was common at the time, were covered with hydraulic concrete, with reinforced corners to avoid filtrations and a central dip to clean them.
Horario:
Mondays to Fridays: 9.00 a.m. to 2.00 p.m.
Dirección:
C/ Sacramento esquina C/ Barrié (Acceso no adaptado)
Perfil de Facebook:
https://es-es.facebook.com/visitcadiz
Perfil de Twitter:
https://twitter.com/VisitCadiz