Cádiz City Hall
Categoría:
Monuments and places of interest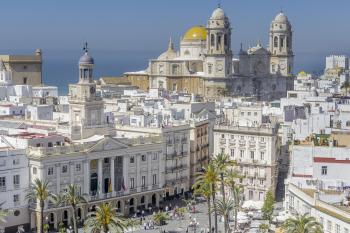 Cadiz City Hall has stood on its current site since the 16th century.   The building was refurbished at the end of the 17th century and was replaced by the current one in 1799.
It was designed by Pedro Ángel Albisu and Torcuato Benjumeda, who followed the prevailing Academicism style of the time, and was added to by Manuel García del Álamo in 1865. The façade rises up over a polished brick portico, supported by semicircular arches.  It has a large balcony with huge Ionic columns, topped by a triangular pediment with its relief of Hercules, the mythical founder of the city. The tower retains the features of the ones on the earlier building and has three structures in the Mannerist style. The first of them has a square flour plan and statues of the city's patron saints, St. Servandus and St. Cermanus, are on its sides. There is structure with an octagonal floor plan and it is finished with a shrine supported by Ionia columns and a semispherical dome with the bell. The whole façade of the building is decorated with different elements that refer to the history and the trading tradition of the city.                                      
Inside the building, the premises are organised around a square courtyard. A convent-style staircase leads up from the courtyards and it is dated, in the same way as the first structure of the courtyard, from the end of the 17th courtyard. There is a white marble sculpture depicting Hercules in one of the bays of the courtyards and was part of what was the city's only fountain.
There are two large canvases over the staircases, one of which represents the patron saints of the city while the other depicts the miracle of Our Lady of the Rosary during the 1755 tsunami.
The rectangular Plenary Room is richly decorated with marbles, stucco and the frescoes in the Isabelline Gothic style, all of which date back to around 1870.  The vaulting has frescos, with medallions with the busts of famous people from Cadiz  on  the side walls, using a relief technique known as trompe-l'oeil  Two large lamps made out of Venetian crystal glass are also noteworthy.
 
Horario:
From 11.00 a.m. to 1.00 p.m. on Saturdays, providing that no official event is being held at the same time
Servicios:
Climate-control premises
Pets not welcome
Assisted access

Adapted WC
Dirección:
Plza. de San Juan de Dios (Acceso adaptado)
Perfil de Facebook:
https://www.facebook.com/aytodecadiz/?fref=ts
Perfil de Twitter:
https://twitter.com/cadiz_es