Cadiz Conference Centre
Categoría:
Monuments and places of interest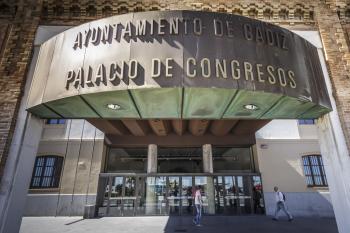 The Conference Centre was constructed using the structure of the Cadiz Royal Tobacco factory, which was first built by Phillip V of Spain in 1741 on the site of the city's former corn exchange.  The current building, structured in three storeys, with an irregular floor plan covered an unobstructed city block, was built there in 1883.
The result is a striking brickwork building, with glazed ceramic tiles on the roof and the odd detail halfway between the English factories and the traditionalist references, which means that it blends in perfectly with the eighteenth century nature of the city. Inside, there are interesting ironwork structures, jutting out over the courtyard and the large glass and cast iron skylight covering it.
Located in the heart of the old town, next to the railway station, the port of Cadiz and the shopping area, Cadiz Conference Centre has become one of the city's most iconic buildings. The building has a surface area of nearly 7,500 square metres, divided into three storeys and its different facilities mean it can host any type of events, congresses, conferences, exhibitions, etc.
Servicios:




Dirección:
C/ Plocia, s/n (Acceso adaptado)
Perfil de Facebook:
https://es-es.facebook.com/visitcadiz
Perfil de Twitter:
https://twitter.com/VisitCadiz