Calle Virgen de la Palma
Categoría:
Monuments and places of interest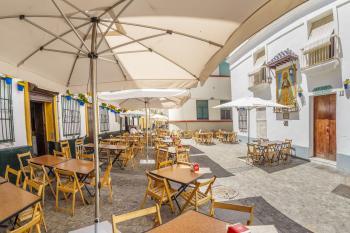 The street is also known as Calle de la Palma and is the main thoroughfare of the working class  La Viña (vine) neighbourhood. This working class district owes its name to the vineyards to be found growing here before it was completely developed in the 18th century.
It is a district with deep ties to the sea and with its sights always set on La Caleta beach.  This  street and its adjoining ones are the heart of the Carnival festivities and of Cadiz at its most authentic. 
Calle Virgen de la Palma, a street along with its adjoining ones known for its many bars and restaurant, is noted for the church. The origins of this small church built halfway through the 18th century are linked to the rosaries said in public encouraged by the Capuchin Friar Pablo de Cádiz. Its patron saint, Our Lady of La Palma, is popularly attributed with the miracle of stopping the waters before the church during the 1755 tsunami, which is commemorated on the street altarpiece next to the church.
Perfil de Facebook:
https://es-es.facebook.com/visitcadiz
Perfil de Twitter:
https://twitter.com/VisitCadiz