Candelaria Convent Square and y Monument to Castelar
Categoría:
Monuments and places of interest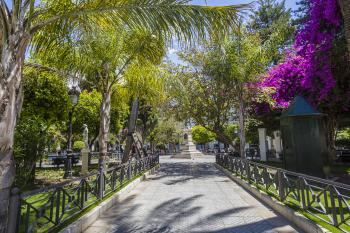 There was originally a small square here next to the chapel, known as the chapel of the Moriscos (Muslims who were forced to convert to Christianity), around which the Convent of the Candelaria was built at the end of the 16th century. The demolition of the Convent, during the First Republic, resulted in this square, which is a trapezoidal landscaped area.  It is laid out around a central circus, with a bronze statue of Emilio Castelar, the politician and writer from Cadiz who was President of the Executive Power during the First Spanish Republic.
Perfil de Facebook:
https://es-es.facebook.com/visitcadiz
Perfil de Twitter:
https://twitter.com/VisitCadiz