Casa de Iberoamérica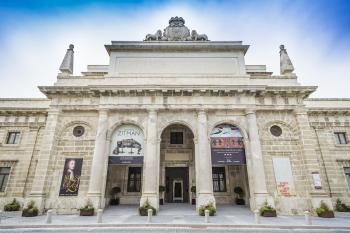 The Casa de Iberoamérica, a former Royal Prison, is a Cultural Centre that now hosts a wide range of events and exhibitions, but with a particular emphasis on those related to Ibero-America.  Its permanent exhibitions include the sculptures of the Dutch artist settled in Venezuela, Cornelis Zittman, and the collection of works of art by José Félix Llopis.
The building itself is the most important of the Enlightenment in Cadiz. It was designed by Torcuato Benjumeda and work began on it in 1794 and was completed in 1836.  The façade features pilasters and a central structure, a portico supported by Doric columns, that ensured it was sufficiently monumental in character for its role as a public building.
The inside is laid out around three courtyards, with the central one being the largest.
Horario:
Tuesday to Sunday from 09:30 a.m. to 13:30 p.m. and from 16:30 p.m. to 19:30 p.m.
Monday closed
 
Servicios:




Dirección:
C/ Concepción Arenal, s/n (Acceso adaptado)
Perfil de Facebook:
https://www.facebook.com/casadeiberoamerica/
Perfil de Twitter:
https://twitter.com/CIberoamerica
Eventos en este espacio cultural.
04/06/2019


Exposición Permanente De Juan Luis Vassallo
El legado del escultor Juan Luis Vassallo, que se retiró del centro cultural Reina Sof...
Horario: A partir del 31 de octubre y hasta el 31 de marzo: De martes a sábados, 10.00h- 14.00h// 17.00h- 20.00h. Del 1 de Abril a 31 de Octubre: Martes a Sábados (inclusive): 10.00 a 14.00 y de 18.00 a 21.00. Lunes y Domingos cerrado
Leer+

15/12/2013


"colección José Félix Llopis. Horizontes Del Arte, Sueños De Ultramar"
La Casa de Iberoamérica acoge la muestra permanente Colección José Félix Llopis. Horizontes del...
Horario: A partir del 31 de octubre y hasta el 31 de marzo: De martes a sábados, 10.00h- 14.00h// 17.00h- 20.00h. Del 1 de Abril a 31 de Octubre: Martes a Sábados (inclusive): 10.00 a 14.00 y de 18.00 a 21.00. Lunes y Domingos cerrado
Leer+