Cathedral Museum and Archives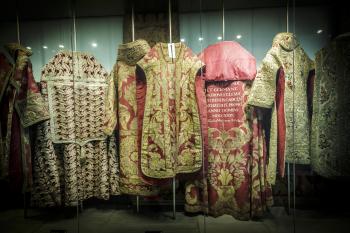 The Cathedral Museum is located in what was the former Counting House. It is located on the site of the cavea of the ancient Roman Theatre of Cadiz. It is in reality of a set of buildings around the tower of the Old Cathedral of Santa Cruz and which apart from the Counting House includes the Canon Termineli's House and the Mudéjar Courtyard or Dean's House.
The Museum is on the ground and first floor.  It is entered from the Plaza Fray Félix square through a Mannerist gateway decorated with diamond tips that support the ironwork balcony with the Cathedral coat-of-arms. The paintings on display in the hallway include the Inmaculada Grande, an extremely beautiful painting of the Immaculate Mary  from the Madrid school.
Cross the courtyard of the Termineli House and you will come to the Mudéjar Courtyard, noted for its Roman and medieval remains. This courtyard leads on to a series of rooms with panels, paintings, ivories and sculptures of great value, along with the monstrances, chalices and other important examples of gold and silverwork, most of which are from the 17th and 18th century.
A room dedicated to the 1812 Cadiz Parliament and its relationship with the Church has been recently opened. Documents and items related to those events are displayed there, including the Decree to abolish the Spanish Inquisition, the Te Deum scores composed for that occasion or the table on which the tradition of the Church claims that the constitutional text was signed.  
Horario:
Summer and winter opening hours:
From 10.00 a.m. to 7.00 p.m. Monday to Saturdays
From 1.00 p.m. to 7.00 p.m. on Sundays
From 10.00 a.m. to 2.00 p.m. on Public Holidays
Tarifas:
Entrance: €5 Group (+20 people), pensioners and students €3
School groups €2.5
The entrance ticket includes the visit to the Cathedral and its crypt
Servicios:





Dirección:
Plza. Fray Félix, s/n (Acceso adaptado)
Perfil de Facebook:
https://es-es.facebook.com/visitcadiz
Perfil de Twitter:
https://twitter.com/VisitCadiz