Chamber of Commerce
Categoría:
Monuments and places of interest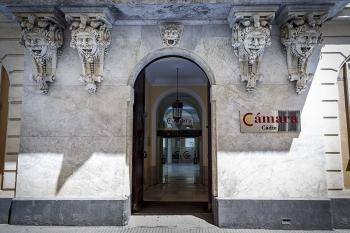 The building, dating back to 1801, was designed by the architect José Gabarrón and is in the Neoclassical style. Its three-storey façade divided in three sections features the whole technical repertoire of the style; the ground floor is decorated with padding and openings with semi-circular openings; the upper floors with double bolstered pilasters and classic capitals in the central section and simple in the others; the openings are finished with straight pediments.
The main floor has balustrade balconies and the main one is supported by large corbels. The building, prior to being the seat of the Cadiz Chamber of Commerce, Industry and Navigation, was the Bank of Spain.
Horario:
Invierno: Lunes a viernes 08:00 - 15:00 h / Martes y Jueves 08:00 - 15:00 y 18:00 - 20:00h
Verano: Lunes a viernes 08:00 - 14:00
Servicios:




Dirección:
C/ Antonio López, nº 4 (Acceso adaptado)
Perfil de Facebook:
https://www.facebook.com/camaracadiz
Perfil de Twitter:
https://twitter.com/camaracadiz