Chapel of Our Lady of El Pópulo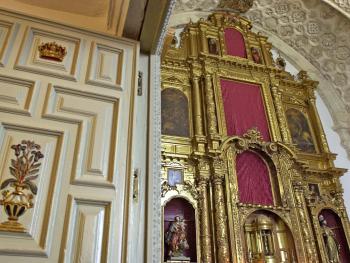 The Royal Chapel of Our Lady of El Pópulo was built on the original Puerta del Mar (Sea Gate) of Cadiz's medieval wall. It dates back to 1587, when on the initiative of Licentiate Mesa, the mayor of the city, a canvas depicting Our Lady of El Pópulo, the work of the painter Antonio Franco, produced according to the model worshiped in Rome, was placed on the outside of the opening.  Given its location in such a heavily transited place, the devotion to this image of Mary continued to grow steadily.  The local residents were therefore particularly hard hit by what happened during the Anglo-Dutch storming of the city when the invading troops riddled the canvas with bullets as they could not take it down from its location.
After that event, the religious fervour increased to the point that in 1621 work began on constructing a high chapel, standing atop the gateway and between the two towers flanking it. The building came under royal patronage as it was built on a fortification belonging to the Crown.
The current chapel, whose current appearance dates back to 1868 due to structural problems that appeared in 1846, is made up of a square nave covered by an elegant vault and a rectangular presbytery. The entrance is through a large semicircular arch on Tuscan attached columns. The main altarpiece was produced by Alejandro de Saavedra halfway through 17th century. It is a Baroque piece made out of gilded wood that was initially designed only to contain paintings.  However, refurbishing work in the 18th century added the statues of St. Joseph and St. Saturius, which are on the side sections.
Horario:
From 10.30 a.m. to 2.00 p.m. and from 4.30 p.m. to 8.00 p.m. from Tuesday to Friday
From 10.30 a.m. to 2.000 p.m. on Saturdays
From 11.00 a.m. to 2.00 p.m. on Sundays
Closed on Mondays and bank holidays
 
Tarifas:
Admission: €1.20, groups (+ 15): €1
Admission free on Sundays