Chapel of Our Lady of Las Angustias (Caminito)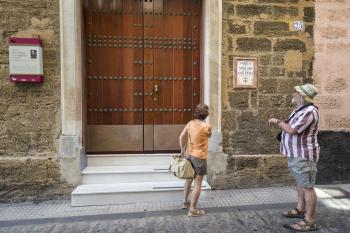 This small chapel was built at the behest of the Capuchin monk, Pablo of Cadiz in around 1701, as the seat of the spiritual company of Our Lady of the Path (Caminito), which explains its nickname of Chapel of the Small Path. In the mid 18th century, this changed and the chapel was dedicated to Our Lady of Anguish (Las Angustias).
The façade, finished with a bulrush, has a entrance made out of white marble, in whose opening there is the eighteenth sculpture, also in marble, of the Virgin Mary with the dead Christ lying  in her arms.
Special mention has to be made inside of the Genoese altarpiece, the main feature of the presbytery, made out of coloured marble at the start of the 18th century. It is presided by the group of sculptures of Our Lady of Anguish, a polychrome carving in the Seville School dating back to around the first half of the 18th century.
Horario:
9.00 a.m. to 2.00 p.m. and from 5.00 p.m. to 9.00 p.m. on Mondays
6.30 p.m. to 8.30 p.m. on Wednesdays and Fridays
 
Servicios:

Dirección:
Calle Isabel La Católica, nº 25