Church of El Carmen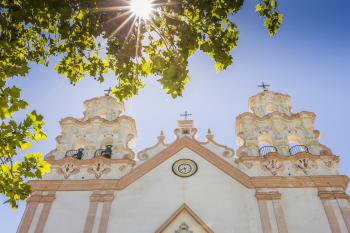 The building of this church was completed in 1762.  Apart from its artistic importance, its historical importance is that it was the church where the solemn Te Deum was celebrated on 19 March 1812 to give thanks for the passing of the Cadiz Constitution, which was proclaimed in the afternoon of that day.
The church has a Latin cross floor plan with three naves. The main one is divided into five sections, by means of Tuscan pilasters, with galleries in the transept. The main façade, one of the most characteristics of the 18th century Baroque in Cadiz, is divided into three structures, with the main one being the entrance in marble and consisting of two units supported by Ionic columns. The side structures consist of overlapping Tuscan attached pilasters and are crowned with highly decorated bell-gables.
The main altarpiece was begun in 1766 and was not completed until 1785.  It is divided into three structures by means of Corinthian columns decorated with garlands. The main structure has a two part altar canopy.  The main one houses the figure of Our Lady of El Carmen, the work of Jacinto Pimentel from 1638, while the second has a Baby Jesus in the Montañés style.
Special mention also has to be made of the pulpit inside the church.  Made out of Genoese marble, it dates back to the end of the 17th century and is decorated with reliefs framed by Solomonic columns and with Rocco sounding boards made out of gilded wood.  Other noteworthy features are the 18th-century canvases that decorate the walls and arches entering the aisles.
 
 
 
Horario:
En la capilla:
Lunes a viernes: 09:00 - 19:30h
Sábados y domingos: 20:00h
En la iglesia
Domingos: 09:30 - 13:30h y 20:30h
Dirección:
Alameda Marqués de Comillas, 3
Perfil de Facebook:
www.facebook.com/ArchicofradiaDelCarmenCoronadaCadiz