Church of Our Lady of La Palma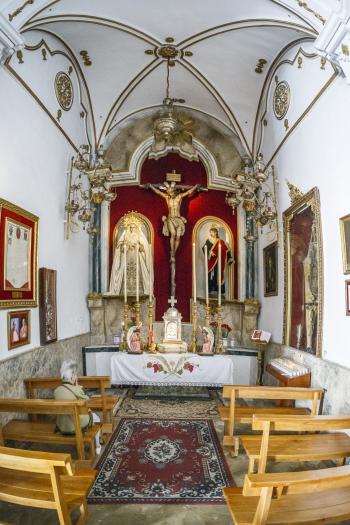 The origins of this Church is linked to the Capuchin order, specifically to the public rosaries,  which Friar Pablo de Cádiz introduced at the end of the 17th century.  This led to different companies being formed, with the Company of Our Lady of La Palma being the oldest.
This figure is traditionally attributed to the miraculous fact of her stopping the water flooding in as it surged towards the church in the tragic tsunami of 1 November 1775.  This is commemorated in the public altarpiece.
The building is Baroque in design, dating back to the mid 17th century, and has a circular floor plan. The façade overlooks the street known as the Calle de la Palma and has a rectangular entrance, framed by Tuscan pilasters.  The square tower, decorated by pilasters and finished with a chapitel covered with Seville tiles from the 18th century, rises up to the left.
The altarpiece inside is Neoclassical, dating back to 1855, where elements were used from a precious structure in the Rococo style. It boasts the small figure of Our Lady of La Palma, a polychrome figure from the end of the 17th century.
At the entrance to the chapel, there is a small holy water font, made out of alabaster, with a relief depicting the Calvary, which is Italian from the 17th century.
Horario:
Misa: Martes a sábado a las 20.00h. Domingos a las 10.30h
Dirección:
Calle San Nicolás - Calle Virgen de la Palma
Perfil de Facebook:
www.facebook.com/ArchicofradiaDeNtraSraDeLaPalmaCadiz