Church of San Agustín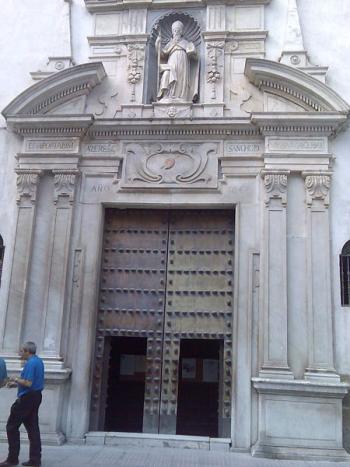 Built in the first half of the 17th century, the Church of San Agustín has a floor plan with a Latin cross, within a rectangle with three naves. The main nave has five sections, separated by Tuscan pilasters and the open galleries on the aisles were balconies open on to the main nave.
There is a marble entrance on the main façade, which Sancho de Urdanibia commissioned to be built in Genoa in 1647, whose outline seems to follow a design by Alejandro Sancho. It is divided into two sections, the first with paired pilasters finished by a broken curved pediment that houses the second section, in the centre of which is a niche with the figure of St. Agustin.
The interior is very elegant, as the result of extensive Neoclassical refurbishing, although some remains of the Baroque decoration survive. The elegant Academicism main altarpiece was made by Pedro Ángel Albisu from 1783 onwards. It is made out of polychrome wood imitating marble and paintings by Álvarez Enciso are on its sides and represent scenes from the lives of Saint Rita and St. Agustin, along with carvings of saints by Alonso Martínez in 1666.
Some figures are also particularly noteworthy inside, such as the figure of Christ of Humility and Patience, a carving by Jacinto Pimentel from 1638, whose polychrome is probably the work of Francisco de Zurbarán.
The carving of Christ of Good Death, a crucified Christ of polychrome wood made in 1649 for the chapel of the burial of the friars of the monastery that belonged to the church, is of great importance. Its perfect anatomical study and magnificent Baroque composition means it is considered one of the outstanding works of 17th century Spanish sculpture.
Horario:
MIsa: Martes a Viernes de 10.00 y 20.00h. Domingos a las 10.00, 12.00 y 20.00h.
Dirección:
Plaza de San Agustín, nº 1