Church of San Antonio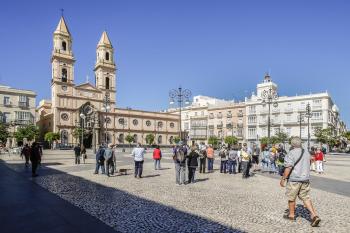 This church is on the site of an earlier chapel in this area that was known at the time as Campo de la Jara. The current building was consecrated in 1969, even though it underwent different reforms in subsequent periods.  The most important one was carried out halfway through the 19th century.
The floor plan is a Latin cross with three naves, with the main one divided into four sections by pilasters. The roof is half barrel vaulting with lunettes, with a semi-spherical dome over pendentives, topped with a lantern, in the transept.
The main façade, which opens on to the square of the same name, is striking thanks to the high towers framing it.  In general lines, it reflects the refurbishing in 1858.  The central feature is an interesting Baroque entrance made out of sandstone in 1730. It is divided into two structures, with the first supported by Corinthian columns and the second by Solomonic ones. There is a marble figure of St. Anthony over the entranceway.  The church is richly decorated and it is an original work within Cadiz's Baroque.
The main altarpiece, made out of polychrome wood imitating marble, is an Academicism piece from the 19th century and the work of Manuel García del Álamo. The altarpiece is divided into three structures by Corinthian columns.  The figure of Our Lady of Patronage is in the main section, and St. Anthony and St. Francis of Paola are on the side sections.  They are all polychrome carvings that can be related to the production of Pedro Roldán.
The altarpiece belonging to the brotherhood of Christ at the Column is another noteworthy feature inside the church.  It is a magnificent polychrome wood carving signed by Jacinto Pimentel in 1660, whose stand is in Mexican silver made in the second half of the 17th century.
Horario:
Lunes a sábados: 08:30 - 13:30h y 17:30 - 20:30h
Domingos: 09:30 - 13:30h
Dirección:
Plaza de San Antonio, s/n