Church of San José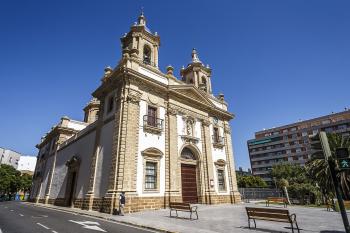 The church is the work of Torcuato Benjumeda and was built as the parish church of the Extramuros neighbourhood in 1787.  It has a Latin cross floor plan with atrium and three naves, with the main one being divided into four sections by means of Ionic pilasters.  It has groined vaults and the transept is domed over with pendentives and topped with a lantern, and whose matching pair is decorated with tiles.
The outside also features Ionic pilasters and the main structure is finished with a triangular pediment. The marble figure of St. Joseph, contemporary to the church, stands over the entrance. The octagonal bell-towers, with paired Ionic columns in the corners, are located on both sides of the façade.
Inside the church, the current main altarpiece reflects Solomonic aesthetics, even though its current classicist appearance is the result of work carried out in the nineteenth century.
Special mention must be made of the garlands and paintings of the Ecce Homo and Our Lady of Sorrows, which frame the sacramental chapel, and a carving of Mary Immaculate from the mid 18th century.
 
Dirección:
Calle Poeta Nieto - Avenida Ana de Viya