Church of San Juan de Dios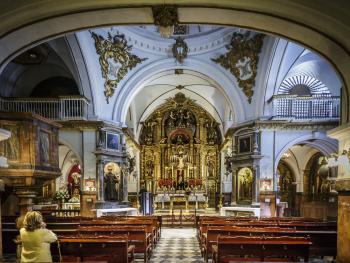 The Church of San Juan de Dios is attached to the Hospital of the same name, and is located in the heart of the old part of the city, in its old El Pópulo Neighbourhood.
The church is located on a corner and overlooks the square of the same name, adjoining the building of the city hall. Its floor plan is rather unusual as it is in the shape of a Greek cross that is in a square.  There is a dome over the transept and groin vaults over the four arms of the cross.
The outside was significantly reformed in the early 19th century. Special mention should be made of the tower, designed by Torcuato  Cayón in 1768, which stands in the intersection of the two façades.
The main altarpiece is in the Baroque style, dating back in 1688, and is made out of gilded wood. Neoclassical reforms were carried out to the central structures that are the work of Torcuato Benjumeda in 1791.  It stands between Solomonic columns, and is presided over by the eighteenth-century image of Our Lady of Good Success, on either side of which are the polychrome carvings of St. Rafael and St. Charles Borromeo.  The top of the altarpiece is occupied by the image of St. John of God in the Baroque style.
Horario:
Lunes a viernes de 10.00 a 13.30 y de 17.30 a 20.00h. Sábados y domingos de 10.00 a 13.30h.
Misa: Lunes a viernes a las 10.30h. Domingos a las 11.30h.
Dirección:
Plaza San Juan de Dios, nº 1