Church of San Lorenzo Martir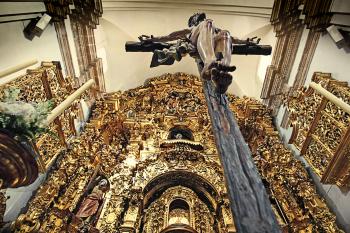 The building of the Church of San Lorenzo Mártir, in 1722, was thanks to the patronage of Bishop Lorenzo Armengual de la Mota, who wanted to provide the La Viña neighbourhood with aid from the parish church.
The Church has a floor plan of a Latin cross, with a single nave and discreet transept. The nave is divided into four sections separated by ionic pilasters that flank decorated semicircular openings leading into the different chapels along the side walls.  Each section of the nave is covered with barrel vaulting with openings where light enters the inside of the church.
The main façade has clean lines and its main architectural interest is in the entrance. To the right of the entrance, there is a ceramic panel with the images of the Brotherhood of the Alfigidos (the Afflicted), a painstakingly work by Ruiz de Luna in 1927 using the cuerda seca or dry cord technique. Alongside this, there is a niche with the figure of Our Lady of Sorrows. This work is by José Montes de Oca in 11729.  The octagonal tower with a pediment of Seville tiles of the 18th century rises up from one of its corners.
The main feature inside the church is the main altarpiece,  made out of gilded wood like all the others to be found in this church.  It  is one of the most acclaimed of Cadiz's Baroque altarpieces of the 18th century and is the work of Francisco López in 1727.  The central structure features the figures of Our Lady of El Pilar and St. Lawrence, a polychrome carving from the start of the 18th century. The attic is occupied by the group of sculptures of the Trinity, which is Genoese in inspiration.
The chapels of El Pilar and the Venerable Order Tercera de Servitas, with important pieces and carvings from the 18th century, stand out due to their artistic importance.
Horario:
Misa: martes a viernes a las 20.30h y domingos a las 11.30 y 20.30h
Servicios: