Church of Santa María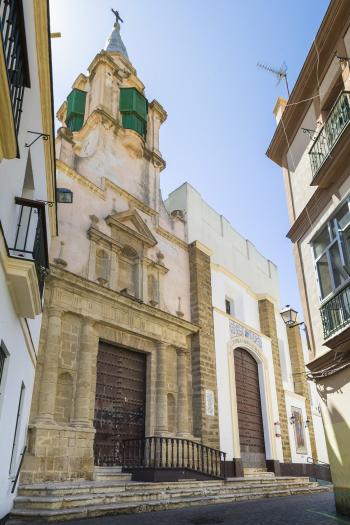 This Conceptionist Franciscan monastery was the first one to be built in the city. It was founded in 1527, the date on which its location was requested on the site the former Santa María Chapel. The 1596 Anglo-Dutch plundering of the city left the building in such bad conditions that it had to be reconstructed at the start of the 17th century.
The monastery buildings are laid out around a cloister, built by Gabriel del Valle and Juan de Cuadros in 1631, organised in two structures, the lower one with semicircular arches and the higher one with rectangular openings forming a balcony.
The church is the result of two building phases. The first, from the start of the 17th century, resulted in a caisson church with a flat apse while the second, built in around 1616, added a transept.  The final result was a Latin cross floor plan. The chapel of Jesús Nazareno was also added at around that time.
The façade is noted for its entrance, with a clear Mannerist composition, consisting of two structures, the first organised by means of paired Tuscan columns, while the second one, in the form of a serliana, is finished with a triangular pediment.  The bell tower is Baroque from 1670, crowned by a polygonal chapitel with 18th-century Seville tiles.
Inside the church, its main altarpiece, made out of gilded wood in 1765, is particularly noteworthy.  It has a three-structure body separated by Corinthian columns with garland decoration. The altarpiece has the carvings of St. Dominic de Guzmán and St. Francis of Asis, works of the Seville school that are contemporary to the altarpiece.
The Chapel of Jesús Nazareno, a figure with a great following in the city, should also be mentioned inside the church. The altarpiece of the chapel is made out of gilded wood and dates back to 1757.  Its central structure is presided by the figure of Jesus Nazarene, a polychrome carving in the Mannerist style, produced at the start of the 17th century, even though only the head has survived of the original work. The chapel has an interesting Dutch tile plinth donated to be brotherhood by the Armenians David Jacome and Paul of Zúcar between 1670 and 1679, which contains inscriptions in Armenian and Spanish. The same donation included the holy water font, a Genoese work in marble from 1670.  The font supported by an angel and with the Nazarene in relief, and the inscription in Armenian characters.
Horario:
De viernes de 08.00 a14.00h y de 17.00 a 22.00h. Misa: viernes 20.00h
Perfil de Facebook:
www.facebook.com/AmigosdeSantaMariaCadiz