Church of Santiago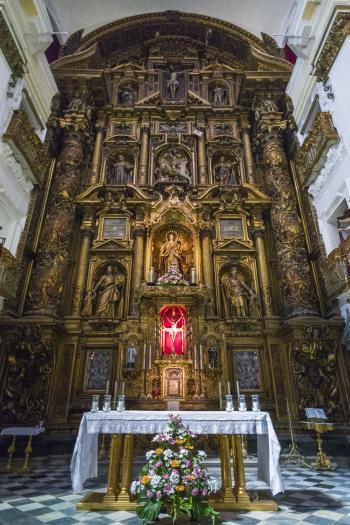 The Church of Santiago de Cádiz, located in the Plaza de la Catedral square, was the centre of the Colegio de la Compañía de Jesús or the Jesuit School in the city, of which only the church remains.  After the attack and plundering of the city of Cadiz in 1596 by the Anglo-Dutch troops under the command of the Count of Essex, the school was in such a poor state that its original temple had to be rebuilt.  First in the Mannerist style started by Vignola for the Gesú in Rome, the mother church of the Jesuits, and then following the general style of the vast majority of Jesuit churches.
This church with a Latin cross floor plan, with a large nave and transept with dome over  pendentives, has small chapels that are interconnected along the aisles  of the church. The layout of this church, from 1635, was designed by the Jesuit brother, Alonso Romero, and the building work took around twelve years.
The main façade overlooks the cathedral square and is organised by means of paired Ionic pilasters made out of the usual shell limestone, that is so characteristic of this city. It has two Mannerist marble entrances, one in the front leading into the square and out on to the street in Calle de Santiago; and a single tower corned which are two structures high, with an octagonal upper floor, finished with a single bulbous dome, dating back to the 18th century.
There is a series of interesting 17th-century Baroque altarpieces inside the church.  The most important is the Main Altarpiece, the work of the Master Builder, Alejandro Saavedra, with the gilding and polychrome by Juan Gómez Couto.
Horario:
Misas: Lunes a domingo a las 9.30h.
Vísperas: 20.00h 
Dirección:
Plaza de la Catedral - Calle Compañía