Elcano Sailing Centre
Categoría:
Monuments and places of interest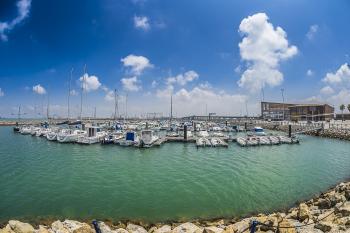 The Puerto Elcano Sports Complex is a key sport-leisure facility of City Council to enable local residents and visitors alike to access sport and water sport activities.  All year round, it provides a wide range of services and activities at its shore (23.000 m2) and sea (20,000 m2) facilities.  These facilities began to be used in July 1998 with the Junior Sailing Spanish Championship, which endorsed the suitability and ability of the facility to host top events. Its training activities, including the School Sailing programme and the Sea Weeks, boast an attractive programme.  This is rounded off by the sailing school and nautical services (moorings, stays, charters, courses, etc.) which are turning the Puerto Elcano Municipal Sports Centre into a key player in encouraging healthy habits and ways of taking up water sports in the Bay of Cadiz.
Servicios:
WIFI zone
Climate-control premises
Pets not welcome
Assisted access

Adapted WC
Dirección:
Avda. Ronda de Vigilancia, nº 52 (Acceso adaptado)
Perfil de Facebook:
https://es-es.facebook.com/visitcadiz
Perfil de Twitter:
https://twitter.com/VisitCadiz