ERYTHEIA PARK (VARELA GARDENS)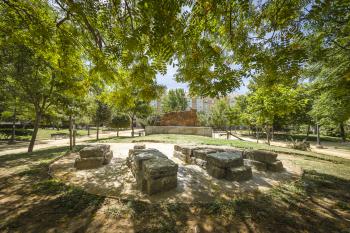 The area around what is  known today as the "Varela Barracks", which only began to be built up a few decades ago, has become a place of great interest for specialists to study the city's past, thanks to the structures and burial sites found here.
In recent years, archaeological digs and surveys have unearthed a huge quantity of remains from Cadiz's earliest past.  Most have been identified as being part of the different necropolises that were gradually created outside the walls of the city centre down through the centuries.
When building the housing and car parks now to be found here, the remains were unearthed of a large burial site, dating from the 8th century B.C. to the 4th century A.D., with no signs of that area ever being abandoned for long periods. This makes this area of Cadiz as the one with the largest funeral archaeological record conserved in an urban area anywhere in Spain.
The collections of items exhumed in different digs in this area of the Necropolis have been used to produce a series of archaeological recreations and reproductions that can be seen in the park. There is now an "archaeological route" in the park which guides the visitor through the exhibition area.  The number of recreated showcases ensures that the visitor is provided with a comprehensive glimpse of the funeral rituals documented in Cadiz from the 6th century B.C. to the 3rd-4th centuries A.D.
Dirección:
Avenida de Andalucía, s/n
Perfil de Facebook:
https://es-es.facebook.com/visitcadiz
Perfil de Twitter:
https://twitter.com/VisitCadiz