Flower Square and Post-Office Building
Categoría:
Monuments and places of interest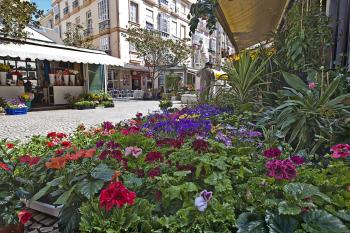 The Plaza de las Flores or Flowers Square is a popular urban spot noted for the colourful stalls selling flowers  in the centre.  It is usually a hive of activity and becomes even livelier at Carnival time, as many of the street performances by the Carnival revellers take place around the nearby Plaza de la Libertad.
At the end of the Plaza de las Flores and on the site of the church of the Convent of Los Descalzos, that has since disappeared, the Post Office building was opened in 1930.  It is built in the regionalist eclectic style, out of brick with decorative items in glazed ceramics, which contrasts with the surrounding traditional architecture.
In the Plaza de las Flores, special mention should be made of Building number 1, dating back to 1746 with a typical entrance of the Baroque style in Cadiz and framed by pilasters, as well as of number 12, a Neoclassical building by Torcuato Benjumeda, whose upper structure features huge Doric pilasters.
Horario:
Correos:
Lunes a viernes: 08:30 - 20:30h
Sábado: 09:30 - 13:00h
Domingo cerrado
Servicios: