Former Hospice
Categoría:
Monuments and places of interest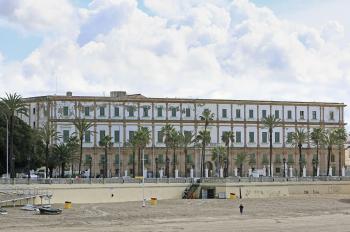 Halfway through the 18th century, the Brotherhood of Charity began to build a new hospice, right at a time, the Enlightenment, where there was great concern to provide the most disadvantaged members of society with first-rate care centres.
This large building was completed in 1763 by Torcuato Cayón, and it combines aspects of the last part of Cadiz's Baroque era with the new Academism trends.
The façade has three structures with pilasters, with a central white marble entrance framed by adjoining Doric columns. The first floor openings are in a varied range of shapes and Baroque decorations, where the echo of the New Cathedral can be seen, while those in the upper structures are noted for their simplicity.
Dirección:
Avda. Duque de Nájera, s/n
Perfil de Facebook:
https://es-es.facebook.com/visitcadiz
Perfil de Twitter:
https://twitter.com/VisitCadiz