Genovés Park - Botanical Garden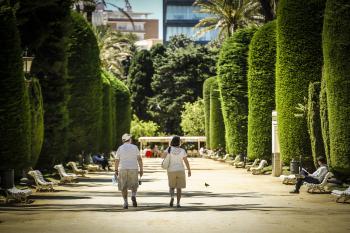 The zone with the most extensive green area in the old town was on the edge of the urban expansion that the city underwent during the 18th century, as it was subject to a military servitude. At that time, it was used as a recreational area and it was called the Paseo del Perejil  or Parsley Promenade, due to its lack of vegetation.
Halfway through the 19th century, a broad tree-lined was created, called the Delicias, that led on to a garden.  Later on in the century, in 1892, Mayor Eduardo Genovés undertook the final remodelling, consolidating its Romantic aspect and the layout that has survived until today.
The park is trapezoid and borders on the Hotel Atlántico, the Paseo de Santa Bárbara, Avenida Duque de Nájera and on Calle González Tablas, the street where the main entrance is located. The gate on this side provides direct access to a broad main avenue, divided into three paths by a double row of symmetric borders.
The park boasts interesting species from many different countries, which makes it a real Botanical Garden.  It has a set of small monuments, including those erected in tribute to José Celestino Mutis and to José María Pemán, along with the popular Niños del Paraguas [the Umbrella Children) fountain.
One of the main features of the parquet is La Gruta, a lake with a waterfall where different species of bird are to be found.
Horario:
Every day from 8.00 a.m. to sunset
8.00 a.m. to 10.30 p.m. in summer
Dirección:
Avda. Doctor Gómez Ulla, s/n
Perfil de Facebook:
https://es-es.facebook.com/visitcadiz
Perfil de Twitter:
https://twitter.com/VisitCadiz