Gran Teatro Falla (City Theatre)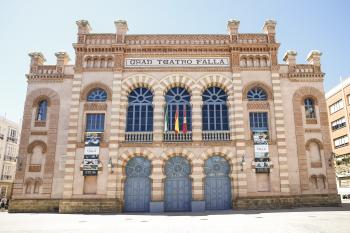 From the early years of the 17th century, there are records of permanent premises here which were used for the theatre activity in the city. During the following century, three buildings were opened and were used for Spanish dramatic art, for comedy and operas in French and Italian. On the site where the Gran Teatro Falla stands, the so-called San Fernando Theatre was built in the early 19th century, when the city was besieged by the French, and it was destroyed later by fire.
In 1885, work began on the Gran Teatro de Cadiz, according to the designs of the architect Adolfo Morales, and concluded in 1910.  It is a freestanding building, in the Neo-Mudejar style, with bare brickwork exterior decorated by horseshoe arches. In the main room inside, the boxes are formed by iron structures with Nazari inspired motifs, while the roofing is covered by a canvas with caliphal-style vaulting and allegorical scenes of the dramatic arts. This work was entrusted to the painters Felipe Abarzuza and Julio Moisés, who also produced the set of paintings that decorate the foyer.
Its name was the Gran Teatro de Cádiz until 1926, when its name was changed to the Gran Teatro Falla to honour the iconic musician of Cadiz, the favourite son of the city.
Gran Teatro Falla has a busy and extensive of programme featuring the dramatic arts throughout the year, and is best known for being the venue for the Official Competition of the Carnival Groups of Cadiz Carnival in February.
Servicios:





Dirección:
Plza. Fragela, s/n (Acceso adaptado)
Perfil de Facebook:
www.facebook.com/TeatroFalla
Perfil de Twitter:
https://twitter.com/teatrosdecadiz
Eventos en este espacio cultural.
10/04/2021


Camerata Atlántica
Obras de Gustav Mahler, F. Schubert y M. de Falla Prestigioso grupo de cámara cuyos miembros,...
Horario: 18.00 horas
Leer+

02/05/2021


Yllana: The Ópera Locos
Ganadora Premio Max 2019 al Mejor Espectáculo Musical Cinco cantantes de Ópera son los...
Horario: 18.00 horas
Leer+

21/05/2021


En Palabras De Jo...mujercitas
De Lola Blasco (a partir de Mujercitas de Louisa May Alcott)Dirección: Pepa Gamboa Con Paula Muñoz...
Horario: 18.00 horas
Leer+

05/03/2021


María Moreno: More (No) More
Dirección artística María Moreno Dirección escénica Rafael R. Villalobos Diseño y realización...
Horario: 18.00 horas
Leer+

27/03/2021


Las Siete Últimas Palabras De Cristo En La Cruz
LAS SIETE ÚLTIMAS PALABRAS DE CRISTO EN LA CRUZ (Hob.XX/2) De F. J. Haydn CORAL DE LA UNIVERSIDAD...
Horario: 17.00 h.
Leer+

30/04/2021


Gala Homenaje Alicia Alonso
Una gala de estrellas internacionales, provenientes de relevantes compañías de Iberoamérica y la...
Horario: 17.30 h.
Leer+

16/05/2021


Alicia En El País De Las Maravillas
VUELVE LA MAGIA DEL TEATRO NEGRO Una revisión del cuento clásico en el que, los personajes de carne...
Horario: 18.00 horas
Leer+

05/06/2021


La Coartada
De Christy Hall Versión y dirección: Bernabé Rico Con Gorka Otxoa, María Castro y Miguel Hermoso...
Horario: 18:00 h.
Leer+

24/03/2021


No Solo Duelen Los Golpes
de Pamela Palenciano Un monólogo que pone contra las cuerdas a la violencia de género y el abuso de...
Horario: 18.00 horas
Leer+

29/04/2021


Un Día Cisne En El Teatro
DÍA DE LA DANZA Un proyecto del coreógrafo Iker Gómez avalado por José Carlos Martínez, ex-director...
Horario: 16.30 h.
Leer+
Pages