Hospital for Women and Chapel of Our Lady of El Carmen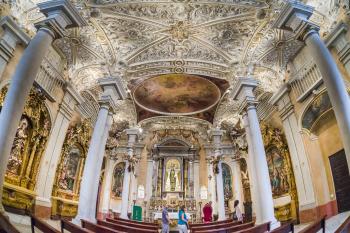 The building, which was begun in 1736, has a façade that was designed following the typical architecture of Cadiz at the time.  However,on this occasion, the decorative motifs were not concentrated on the font, but were evenly distributed providing the whole with its monumental nature.
The inside is organised around two connecting courtyards, between which the stairs lead off. The main courtyard is divided into two structures, one of which features semicircular arches and the other pilasters. The second courtyard is simpler and smaller in proportion. The plinths of both courtyards are decorated with Dutch tiles mixed with bricks and marble plaques.  The main feature of this part is the Stations of the Cross made out of Seville tiles dating back to 1749, whose scenes are based on Flemish and Italian engravings from the 17th century.
The Chapel of Our Lady of El Carmen is located between the courtyard and the façade.  It has a hall plan and is divided into three naves by marble Doric columns.  It boasts an interest collection of altarpieces.  The one in the main chapel is Neoclassical, made out of wood imitating marble and has a niche with the statute of Our Lady of El Carmen from the end of the 17th century. Among the many works of art to be found in the chapel, particularly noteworthy is the canvas entitled St. Francis's Vision of the Flaming Torch, painted by El Greco in around 1601 and which belonged to the private collection of Bishop Armengual. It shows the full maturity of its painter and the Mannerist forms that are so characteristic of his work.
Horario:
From 10.00 a.m. to 1.30 p.m. and from 5.30 p.m. to 8.30 p.m. from Monday to Friday
Saturdays from 10.00 a.m. to 1.30 p.m
Summer from 1 August to 5 September: from 9.00 a.m. to 2.00 p.m. from Mondays to Fridays
Chapel of Our Lady of El Carmen: 
10.00 a.m. to 1.30 p.m. from Monday to Saturday. 5.30 p.m. to 8.30 p.m. from Monday to Thursday
Tarifas:
Hospital for Women: Admission free
Chapel of Our Lady of El Carmen: Admission €1.50-
Dirección:
Calle Hospital de Mujeres, nº 26