House of Chains (Provincial Historical Archive)
Categoría:
Monuments and places of interest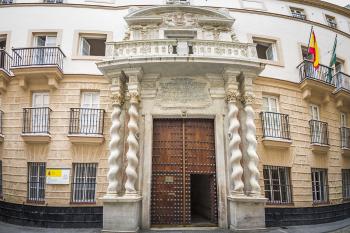 This building, which is currently the Provincial Historical Archive, was built on the initiative of Manuel de Barros at the end of the 17th century. The story goes that it was built after a rather curious incident that occurred during the Corpus Christi procession in 1692, when a downpour forced the procession with the Monstrance to take shelter in this house. Manuel de Barrios decide to build a new more lavish house on this site.
The façade, which was refurbished in the Neoclassical period, still boasts a striking Baroque entrance made out of Genoese marble, whose entrance is flanked by paired Solomonic columns.  There is a plaque referring to the incident mentioned above on the lintel.
The second structure has an opening framed by paired Ionic pilasters and is finished by a curved pediment, whose tympanum is decorated with an allegorical bas-relief of the Eucharist.
It is finished with a white marble balustrade signed by Ponsonelli, who is also attributed with making the entrance.
Dirección:
C/ Cristóbal Colón, nº 12 (Acceso no adaptado)
Perfil de Facebook:
https://es-es.facebook.com/visitcadiz
Perfil de Twitter:
https://twitter.com/VisitCadiz