House of the Five Towers
Categoría:
Monuments and places of interest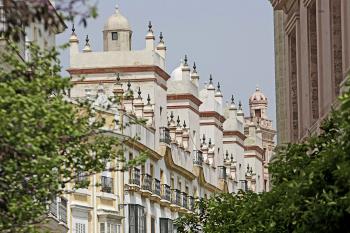 Properties No. 5-D, 6, 7, 8 and 9 of  Plaza de España form the unit known as the House of Five Towers. They are five different houses built on a large city block. They were built in around 1771 and are in the Baroque style, in the transitional phase to Neoclassicism.
Despite being independent properties, they form a uniform whole and have unique characteristics. Each house has four storeys, a small inner courtyard and tower. The structures of the façades are separated by cornices and openings forming balconies and enclosures, except on the ground floor, where there are windows.
All the towers are square, with a turret, except for the tower in house No. 5-D, which is polygonal. These are connected to the parapets by low walls combined with pinnacles.  The turrets are in the centre of the flat roofs and are made out of wood, covered with zinc sheets. They are octagonal structures finished with cornice, with alternative rectangular openings on its sides. The cupolas are topped with decorative touches.
Horario:
Tan sólo se puede contemplar su fachada, es un edificio privado.
Perfil de Facebook:
https://es-es.facebook.com/visitcadiz
Perfil de Twitter:
https://twitter.com/VisitCadiz