House of the Four Towers
Categoría:
Monuments and places of interest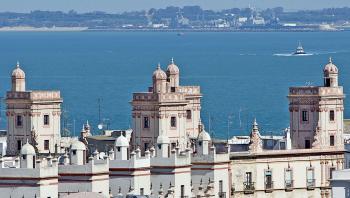 Juan de Fragela, a Syrian trader settled in the city, commissioned this building, constructed between 1736 and 1745, which in reality comprises four totally independent houses, but conceived as a whole.
The building has the characteristic layout of the houses of the shippers to the Indies and keeps many significant features of the eighteenth century Baroque in Cadiz. It has a rectangular floor plan. The decoration on its façade is concentrated in its corners and is based on paired pilasters with the overlapping of orders. Four slender watchtowers rise up from it as turrets. The walls still have much of the original decoration painted in red ochre, mainly on the upper storeys and towers. Each one of the houses overlooks a courtyard, from which a staircase leads off by means of a triple arcade supported by marble columns.
Perfil de Facebook:
https://es-es.facebook.com/visitcadiz
Perfil de Twitter:
https://twitter.com/VisitCadiz