Lithographic Museum of Cadiz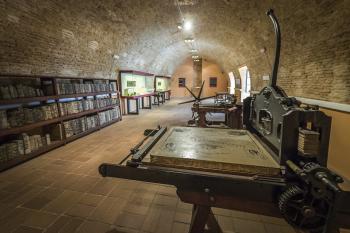 The origins of the Lithographic Museum  can be traced back to the former German Lithograph of Cadiz, which was set up in 1861 and  continued to produce artistic prints until the end of the 20th century. It is one of the few museums of this genre in Spain and the most comprehensive, and it should be noted that Cadiz was the third Spanish city, after Madrid and Barcelona to have a lithographic workshop.
The museum has a highly important collection consisting of over a thousand lithographic stones, from the quarries of Bavara and noted for their high quality.  Some of them have been real works of art as far as old drawing and engravings are concerned. These stones are carefully conserved and on display for the public. Among the most striking pieces of the Museum is a huge stone that weighs over 300 kilos and a manual press manufactured in Paris in 1850, which is one of the few that exist in the world.
The Lithographic Workshop Museum also has relics that are still worked in the hands of artists, engravers and experts.
Horario:
From 09.00 a.m. to 6.00 p.m. from Tuesday to Friday
From 10.00 a.m. to 2.00 p.m. on Saturdays, Sundays and public holidays*
Public holidays open*: 28 February, 15 August, 12 October, 6 and 8 December from 9.00 a.m. to 2.00 p.m.
Guided tours subject to booking from 9.00 a.m. to 2.00 p.m. Tuesday to Friday
Servicios:




Dirección:
Bóvedas de S. Roque (Acceso adaptado)
Perfil de Facebook:
https://es-es.facebook.com/visitcadiz
Perfil de Twitter:
https://twitter.com/VisitCadiz