Mayol House
Categoría:
Monuments and places of interest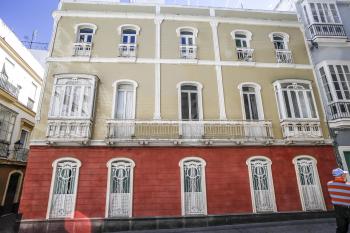 The house is located near to the San Felipe Neri Oratory. At the start of the 20th century, the Mayol family refurbished their housing adapting it to the Modernist trends. The architect José Romero was commissioned to oversee this work and he took great care with all its aspects while maintaining the traditional structure of a Cadiz house.
Its façade has grooved pilasters over its three storeys, with yellow tiles on the first and second storey and red paint on the ground floor.
 
Perfil de Facebook:
https://es-es.facebook.com/visitcadiz
Perfil de Twitter:
https://twitter.com/VisitCadiz