Military Parish Church of Santo Ángel Custodio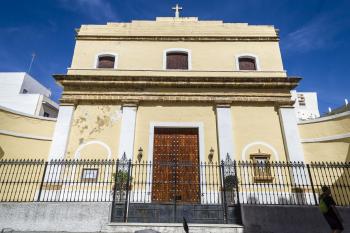 The current church was originally a small chapel, built in 1653 by the Brotherhood of the Santo Ángel de la Guarda [Guardian Angel], alongside the cemetery with the victims of an epidemic that devastated the city in 1648.
The original chapel, with a rectangular floor plan, had only one single nave covered with barrel vaulting with lunettes. The chapel with a Latin cross floor plan and aisles was the result of subsequent extensions.
The main entrance, which is now bricked up, is a structure flanked by pilasters over which there is a niche with the stone figure of the Virgin Mary. The nineteenth century refurbishing transformed the eighteenth century chapel into a church. The church as it now stands has a hall floor plan, divided into three naves by quadrangular pillars, with the elegant main façade, featuring Tuscan pilasters.
The main altarpiece is made up of a large Rocco plinth on which the group of sculptures of the Guardian Angel, a Baroque polychrome carving that is the work of Nicolás Fumo from Naples.
Horario:
Lunes a domingos: 09:00 - 13:00h y 18:00 - 20:30h
Servicios:

Dirección:
Calle Benito Pérez Galdós - Plaza Fragela
Perfil de Facebook:
www.facebook.com/HermandaddelSantoAngelCustodio
Perfil de Twitter:
https://twitter.com/HNSDesamparados