Museum of Cadiz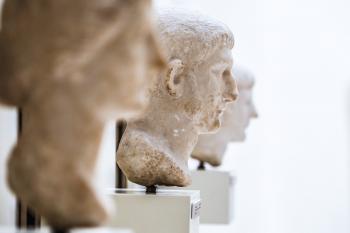 The origins of the Museum of Cadiz can be traced back to the Mendizábal Disentailment in 1835, when a series of paintings from different disentailed convents were given to the city's Academy of Fine Arts.  These works include a series of paintings by Zurbarán from the Jerez de la Frontera Charterhouse. Meanwhile, throughout the 19th century, the Academy of Fine Arts built up a selection of works from the flourishing Cadiz school of painting.  It included the final echoes of Neoclassicism, Romanticism, Costrumbrismo and historical paintings.
The chance finding in 1887 of the male Phoenician anthropoid sarcophagus where the Cadiz shipyards now stand was the starting point of the archaeological collection. The archaeological section of the museum is divided into rooms, which show how the province of Cadiz has evolved from pre-history, down through the Punic-Phoenician Gadir and to the Roman Gades and Baelo Claudia. Along with the impressive Phoenician anthropoid sarcophagus, this section is noted for the Phoenician and Punic funerary offerings and items unearthed in Cadiz and at the shrine of Melkart-Hercules in Sancti Petri and at the Poblado de Doña Blanca in El Puerto de Santa Maria.  It also features the Roman remains from Cadiz, Medina Sidonia, Sancti Petri and Baelo Claudia, among which the spectacular collection of statutes is noteworthy.
The Fine Arts section is also divided into rooms and takes you on a journey through paintings from the 16th century to the present time. The main works includes the Spanish, Italian and Flemish paintings from the 16th century, the works by Zurbarán for Jerez's charterhouse between 1637 and 1639, different works by Murillo and his disciples as part of the Baroque collection or a painting by Joan Miró in the Contemporary Art section.
 
The Pinillos House is a building close to the Museum and forms part of it.  The fitting out of this building and its becoming part of the museum provided Cadiz with a new and modern cultural venue of  nearly 1,600 m2. The Museum of Cadiz opened this new building to the public thanks to the generous donation from Carmen Martínez de Pinillos and Toro, who in 2004, bequeathed her property to expand the Museum. In 2009, work began on the refurbishing of the property, which is of great historical value as it is an outstanding example of a bourgeois home from the early 18th century.
Horario:
Opening Hours:
WINTER OPENING HOURS From 10.00 a.m. to 8.30 p.m. from Tuesday to Saturday. Open from 10.00 a.m. to 5.00 p.m. on Sundays and bank holidays. Closed on Mondays. SUMMER OPENING HOURS From June to September: From 09.00 a.m. to 3.00 p.m. from Tuesday to Saturday. Open from 10.00 a.m. to 5.00 p.m. on Sundays and bank holidays.  Closed on Mondays. Closed on the following holidays: 1 January, 1 May and 25 December
 
Tarifas:
Admission free for European Union citizens, €1.50 for others
Servicios:
Climate-control premises
Pets not welcome
Assisted access

Adapted WC
Cash
Dirección:
Plza. de Mina s/n (Acceso adaptado)
Perfil de Facebook:
https://www.facebook.com/museocadiz/