Oratory of San Felipe Neri and The 1812 Cadiz Constitution Visitor´s Centre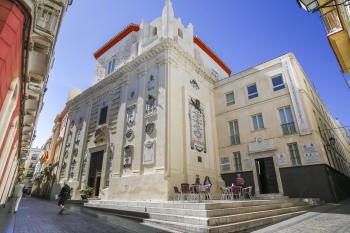 This chapel, part of the early oratory of the Philippian fathers, was begun in 1688 following the designs of Blas Díaz, the master building, and came into service in 1719.  Subsequently, the roof was rebuilt in 1764 and the structure was expanded following the damage caused by the tsunami in 1755.  Apart from its artistic importance, it has a special historical significance as it was the seat of the Parliament that passed the first Spanish Constitution in 1812.
The outside of the church features Ionic pilasters with  numerous commemorative plaques dedicated to the members of the 1812 parliament, most of which were added in 1912 to mark the first centenary of the Cadiz Parliament.
The Oratory has an oval-shaped floor plan, with seven rectangular chapels leading off it, with barrel vaulting and is richly decorated. Particularly noteworthy is the Sanctuary chapel, with an outstanding Baroque altarpiece from the 18th century.  Italian in origin, the altarpiece is made out of coloured marble and has a painted wood crucifix, likewise from Italy.
Mention must also be made of the main altarpiece inside the oratory.  Dating back to the 18th century, this Rococo style altarpiece is made out of gilded wood and with a canvas over it that depicts the Immaculate Conception, the work of the famous painter from Seville, Bartolomé Esteban Murillo.
The 1812 Constitution Visitors' Centre is in the building attached to the San Felipe Oratory.  The visit to the Centre is divided into three main thematic sections: 'Cadiz in the early 19th century. The city that welcomed the Spanish parliament'; 'The historical context. The Peninsular War'; 'Cadiz, seat of national sovereignty. The 1812 Constitution'.
Horario:
ORATORY
Closed on Mondays
From 10.30 a.m. to 2.00 p.m. and from 4.30 p.m. to 8.00 p.m. from Tuesday to Friday
From 10.30 a.m. to 2.300 p.m. on Saturdays and from 11.00 a.m. to 1.00  p.m. on Sundays
At 1.00 p.m. for Mass on Sundays and bank holidays
VISITORS' CENTRE
11.00 a.m. to 2.00 p.m. from Tuesday to Sunday.  Closed on Mondays and bank holidays
Tarifas:
ORATORY
Admission fee: €3- Groups (+15), the unemployed, pensioners and young people (10 to 18 years old) €1.50 Admission free on Sundays
VISITORS' CENTRE
Admission free
 
Servicios:
Pets not welcome
Climate-control premises
Assisted access

Adapted WC
English
Cash
Dirección:
C/ Santa Inés, s/n (Acceso adaptado)