Parish Church of Our Lady of El Rosario (The Rosary)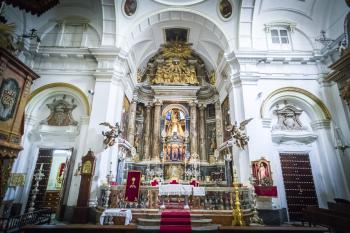 This church was originally a chapel that was built halfway through the 16th century for the Augustinian nuns.  From the mid 17th century onwards, it was home to the brotherhood worshipping Our Lady of the Rosary of the Blacks from which its current name comes. The original building has undergone several reforms over time and its current appearance is in the Academicism style at the end of the 18th century, designed by Torcuato Benjumeda.
The floor plan is a Latin cross with three naves, with the main one divided into four sections divided by Doric pilasters. The façade features four Ionic pilasters that divide it into three structures, with the central one having an attic finished by a triangular pediment. The marble entrance is Baroque from Genoa at the start of the 18th century, crowned with a large pediment with figures of Our Lady of the Rosary, St. Peter and St. Paul.
The statute of Our Lady of the Rosary, dating back to the end of the 18th century, is in the central niche of the main altarpiece.  The statutes of St. Servandus and St. Cermanus, attributed to Francisco de Villegas, are on either side. There are two canvases by Juan de Herrera on the side walls, which depict the Trinity and Saint Ildefonsus receiving the chasuble. 
The altarpiece on the left side has an eighteenth-century figure of St. Joseph. The first altarpiece is of the Crucified Christ of the Misericordia, from the Genoese school of the 18th century, and St. Francis Borgia and St. Aloysius Gonzaga on either side.  Then there is the important figure of Our Lady of the Angels, attributed to Benito de Hita del Castillo and polychormed by Franciso Maria Mortola.
Horario:
Lunes a sábados (excepto miércoles): De 9.30 a 12.30 h y 18.00 a 21.00h. Miércoles y domingo de 10.00 a 13.00h
Misa: Lunes a sábados (excepto miércoles): 20.00h. Domingos y festivos a las 11.30h
Perfil de Facebook:
www.facebook.com/parroquiadelrosariocadiz