Plaza de España (Square) and Monument to the Cadiz Parliament
Categoría:
Monuments and places of interest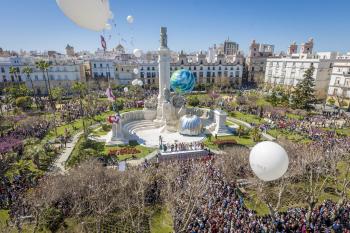 The demolition of the city walls in the port area, at the start of the 20th century, allowed this ample landscaped area to be created.  It was completed in 1929, coinciding with the unveiling of the Memorial to the 1812 Constitution.  The buildings overlooking it are fine examples of the evolution of Cadiz's civil architecture during the 18th century.  They range from the Baroque houses of the four and five towers to the elegant Academicism design of the Provincial Council Building or the San Carlos neighbourhood.
The members of the Cadiz Parliament, aware of the importance of the document that they had drafted, proposed erecting a monument to perpetuate its memory. It would be more than a century later for the idea to be turned into reality and the opportunity arose to mark the first centenary of the Constitution. A design by Modesto López Otero, with sculptures by Aniceto Marinas, was chosen.
The monument is designed as a large semicircle, with a high triumphal pillar rising up in the centre, and the whole of its iconography is devised in tribute to the work of the Cadiz Parliament. Right in the centre of the semicircle, a throne with the coats-of-arms of the Borbón family symbolises the legitimacy of Ferdinand VII. A tribune before it is the base of the triumph of the Constitution, identified with Justice.
Two bronze equestrian figures, which symbolise war and peace, frame the whole piece and on both sides of the central pillar are the groups of sculptures of the citizens marching to war and the fruits of peace. The figure of Hercules representing the city of Cadiz in the back completes the monument, and other iconographic elements and inscriptions that recall the members of parliament and the role the Americas played in the event.
Horario:
Monumento en espacio abierto se puede contemplar sin límite de horario.
Perfil de Facebook:
https://es-es.facebook.com/visitcadiz
Perfil de Twitter:
https://twitter.com/VisitCadiz