Plaza de San Antonio (Square): Casa Pemán, Banca Aramburu and Casino Gaditano
Categoría:
Monuments and places of interest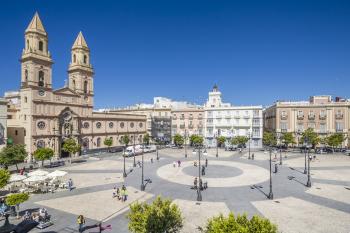 The Plaza de San Antonio is a large quadrangular square and is one of the major hubs of the city. It was originally called the Campo de la Jara, as the well of the same name that supplied the city with drinking water for some time was located nearby. In the mid 17th century, the square's name was changed to the current one when the chapel dedicated to St. Anthony was built here.
During the 18th century, it became the centre of urban expansion and was used for civil and religious ceremonies alongside what is now Plaza de San Juan de Dios, as the latter square was used as a market and for trading. This square is important historically speaking as the 1812 Constitution was proclaimed here and as it was the scene of the bloody repression of the 1820 liberal movements.
The buildings overlooking the square are very uniform in proportion and that is only broken by the slender façade of the Church of San Antonio. Cadiz Casino, built in the 18th century by the Marquis of El Pedroso, is a Baroque building, reformed in the Isabelline Gothic style in 1857.  Its courtyard and inner rooms are richly decorated in the Neo-Mudejar style, the work of the artist from Seville, Adolfo López Rodríguez, in 1890.
The building of the former Banca Aramburu is another of great interest.  It has an eighteenth-century entrance in white marble with estipite columns in the second structure.  The façade was reformed in the Modernist style by Juan Cabrera Latorre in 1910. The Museum-House of José María Pemán, the writer from Cadiz, is also of great historical interest and now hosts temporary exhibitions and displays.
Perfil de Facebook:
https://es-es.facebook.com/visitcadiz
Perfil de Twitter:
https://twitter.com/VisitCadiz