Puerta de Tierra Gateway
Categoría:
Watchtowers with panoramic views of the city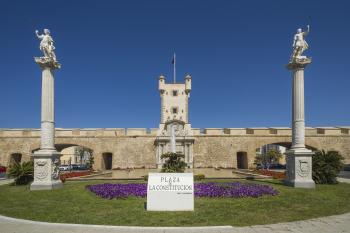 The central vault, turret and upper walkway of the Puerta Tierra, the gateway to the land, which has been reopened to the public since 2013, is of great cultural, historical and heritage significance.  It  is one of the many buildings and monuments that the city of Cadiz has to visit.
The Puerta de Tierra today reflects different construction periods and stages from when the city spread beyond the early medieval fence in the 16th century. A wall was then built, whose gateway can still be seen embedded in one of the sections of the current defensive structure. In 1574, the structure was extended when two bastions were added to protect it. The structure did not acquire its final appearance until the 18th century.
In the centre, the turret is the focal point of the whole structure and is over the access opening, which is framed by a marble entrance, dating back to 1756.  An inscription refers to the construction of the gateway and the royal and the city's coats-of-arms accompanied by a military allegory appear on it. An elegant marble portico, designed by Torcuato Cayón, was built as a triumphal arch for the facade leading into the old town of the city.  The San Roque and Santa Elena bastions were built on either side of the structure.  They were named after their respective chapels, which were demolished in 1737 when the barracks were built in the inner area of the defensive complex.
As the city grew outside the city walls, the demolishing of the whole complex was considered during the first half of the 20th century.  Fortunately the decision was taken to fill in the moats and open up two large arches in the sections of the wall for vehicles to go through. On the central esplanade, there are two marble triumphal arch dedicated to San Servando and San Germán, the patron saints of Cadiz, made in Genoa at the start of the 18th century and which had previously  presided over the entrance to the city's port.
Apart from the area that can be visited including the central vault, the turret and the upper walkway, the Puerta de Tierra also houses the Lithography Workshop Museum and the Ibero-American Puppet Museum.
Horario:
Tuesday to Sunday  from 10.00 a.m. to 18.00 p.m. 
Closed Monday
Dirección:
Plaza de la Constitución, s/n
Perfil de Facebook:
https://es-es.facebook.com/visitcadiz
Perfil de Twitter:
https://twitter.com/VisitCadiz