"Reina Sofía" Cultural Centre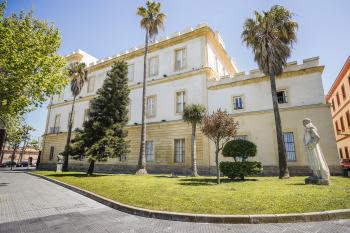 The home to the former Military Government, the "Reino Sofia" Cultural Centre was opened by HRH Queen Sofia of Spain in October 2006.  The works of Juan Luis Vasallo, one of the best Spanish sculptures of the 20th century, are its main attractions. Creator of The Minerva at Madrid's Fine Arts Circle, Juan Luis always wanted his work to be exhibited in the city where he was born. Therefore and thanks to the generosity of the family, his sculptures are in the courtyard, on the steps and on the second floor of the building.
The "Reina Sofia" Cultural Centre also boasts the legacy that the Aramburu Picardo family donated to the city of Cadiz, and which is made up of engraving, portraits, oil miniatures, landscapes and religious scenes or Costumbrista paintings.
The façades of the building, which is a true gem of its time, are noted for their monumental, balanced and classical appearance. The building has a quadrangular floor plan and was completed in 1760.  Part of the materials and structures of the former Santa Caridad hospice, including the basic layout of the courtyard and staircase, were used for the building. The courtyard has four bays supported by white marble columns on the ground floor and with pilaster structures in the two upper ones, while the large staircase recalls the convent-style staircases, typical of the 19th century.
Horario:
From 9.00 a.m. to 9.00 p.m. Monday to Saturday
Guided tours in winter at 11.30 a.m. and 5.00 p.m.
In summer (15 June – 30 September) at 11.30 a.m. and 7.00 p.m.)
From 9.00 a.m. to 3.00 p.m. on Sundays and public holidays
Guided tours in winter  and summer at 11.30 a.m.
Servicios:
Pets not welcome
Assisted access

Adapted WC
Dirección:
Pº Carlos III, nº 9 (Acceso adaptado)
Perfil de Facebook:
https://es-es.facebook.com/visitcadiz
Perfil de Twitter:
https://twitter.com/VisitCadiz