The Rose Arch
Categoría:
Monuments and places of interest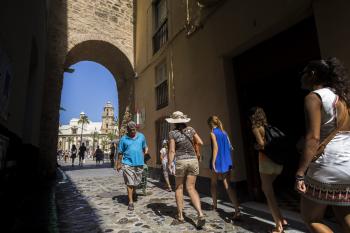 It is name after the small chapel dedicated to Our Lady of the Rose which stood atop it. Access to it was originally at a right angle, as there was a tower standing before it, which is no longer there. A Machicolation defends the entrance over the opening, which was enlarged to allow carriages to go through.
The arch overlooked the small square known as "the boards", where the gallows were set up.  The square disappeared at the end of the 19th century, when the Cathedral square as we know it today was laid out.
Dirección:
Plaza de la Catedral, s/n
Perfil de Facebook:
https://es-es.facebook.com/visitcadiz
Perfil de Twitter:
https://twitter.com/VisitCadiz