San Juan de Dios Square and Monument to Segismundo Moret
Categoría:
Monuments and places of interest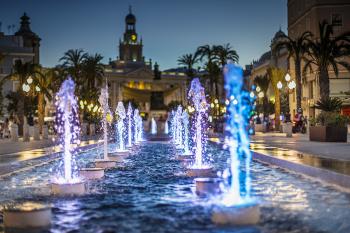 The early Plaza Mayor or Main Square of the city, which is also known as La Corredera, was built, as was common in Medieval cities, outside the city walls and immediately next to the entrance gates, in this case the early Puerta del Mar [Sea Gate], which is today the El Pópulo Arch. Its irregular layout is due to its being next to one of the mouths of the old sea channel, which originally crossed the island of Cadiz.
In the 16th century, it had already become the centre of urban activity, connected to the port and overlooked by the municipal council building. Its traditional trading role grew as trade with the Americas increased, as many of exotic products that the Indies fleet brought to the city were sold in its market. At the end of the 18th century, the decision was taken to build permanent stalls to set it up as a public market, a status that it continued to hold until the Central Market was opened.
In Plaza de San Juan de Dios, the square is overlooked by interesting buildings include the City Hall, the Church of San Juan de Dios and the Pazos Miranda House.
Thanks to the latest refurbishing of the square in 2012, it was turned into a pedestrian area and new decorative features were added. These included the monument to Segismundo Moret, the politician from Cadiz, which was returned to this square where it had originally stood back in 1909.
 
Dirección:
Plaza de San Juan de Dios, s/n
Perfil de Facebook:
https://es-es.facebook.com/visitcadiz
Perfil de Twitter:
https://twitter.com/VisitCadiz