Santo Domingo Monastery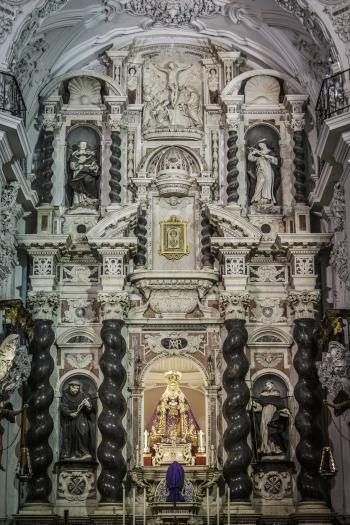 After several  frustrated attempts, the Dominican order founded their first monastery in Cadiz in 1639.  It chose the place known as "del Boquete" [the hole], where the Anglo-Dutch raiders had thrown the image of Our Lady of the Rosary in 1596.  The construction of the current monastery complex began in 164, with funding from Domingo de Munárriz, the Basque trader.
The monastery buildings were built around Baroque cloisters, dating back to 1660, organised in four corridors with each having three structures. The first has white marble Tuscan columns, the second is structured around pilasters between which there are balconies finished with curved pediments and the last one has with lintel finishes and segmental arches. Four  white marble well parapets with Franciscan and Dominican coats of arms complete the scene.
The church, which is the sanctuary of Our Lady of the Rosary [El Rosario], patron saint of Cadiz, was completed in 1666 and had to be partially reconstructed after the 1936 fire.  It has a Latin cross floor plan with three naves, the largest of which is divided into five sections by Tuscan columns, between which there are semicircular arches topped by galleries in form of balconies.
The main altarpiece is a magnificent Genoese piece made out of colour marbles and dating back to 1691. It is considered to be one of the most outstanding examples of Italian altarpieces of the Baroque period in Spain. It consists of three structures divided by Solomonic columns.  There is an image of Our Lady of the Rosary in the centre and it replaces the original lost in the fire of 1936.
Special mention must be made of the Sanctuary chapel inside the church, were a small multicolour carving of Our Lady of the Rosary is worshipped.  Known as the Galeona, the carving was made by Juan Luis Vasallo in 1943, evoking the previous model lost in 1936.
Horario:
10.00 a.m. to 1.00 p.m. and from 7.00 p.m. to 8.30 p.m. from Monday to Sunday
Dirección:
Calle Santo Domingo, nº 2