Seat of the Provincial Council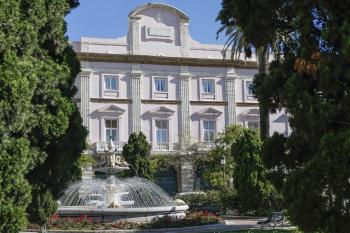 The current Seat of Cadiz Provincial Council was built between 1770 and 1783.  It was designed by Juan Caballero, the military engineer, as the Customs building.
Given its monumental scale, it was chosen as the seat of the Regency during the siege by the Napoleonic troops.  Years later, in 1862, it was the residence of Queen Isabella II of Spain during her visit to the city.  On 19 March 1812, it was the starting point of the procession by the civic authorities that proclaimed the Constitution and the first public reading of the constitutional text took place in front of the building. In 1978, the Autonomous Government of Andalusia was established in its Regal Room.
The whole building is designed with the elegance of military Academicism. It has a rectangular floor plan and its rooms are organised around two quadrangular courtyards. The outside façades feature huge striated shafts pilasters, between which there are openings with pediments.
The outstanding feature inside is the Regal Room built in 1862 for the visit of Queen Isabella II of Spain. It is richly decorated, in the eclectic style, with carvings by Juan Rosado and paintings by Juan Bautista Vivaldi.
Special mention should be made of the triumphal arch of Our Lady of El Rosario, built by the city after the tsunami in 1755.  It stands opposite one of the façades of the building, on the Paseo de Canalejas. The white marble figure is placed on a Solomonic column with a Rococo plinth.
 
The Exhibition Cloisters is a large exhibition space, which houses a series of different exhibitions, for a wide range of the general public. It is also used for different types of events, including the plastic arts, biography or ones of a more educational nature.
Horario:
From 10.00 a.m. to 2.00 p.m. and from 6.00 p.m. to 9.00 p.m. from Monday to Friday
 From noon to 2.00 p.m. on Saturdays, Sundays and public holidays
Servicios:
Climate-control premises
Pets not welcome
Assisted access

Adapted WC
Dirección:
Plza. de España, s/n (Acceso adaptado)
Perfil de Facebook:
www.facebook.com/diputaciondecadiz
Perfil de Twitter:
https://twitter.com/diputacioncadiz