Viewpoint Between Cathedrals
Categoría:
Watchtowers with panoramic views of the city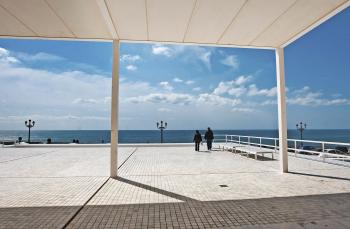 The Viewpoint between Cathedrals, as its name indicates, is located right in the gap between the New Cathedral and the Church of Santa Cruz or the Old Cathedral. Designed by Alberto Campo Baeza, the architect, the result is a structure that, apart from protecting the underlying archaeological site, provides a viewing deck looking out to sea.
The square is reached by a large side ramp and there is a shade structure, where people can shelter from the sun and rain. It is the ideal spot to gaze out over the ocean.   The whole made up of paving stones, structures and balustrades is white in colour as a means create a feeling of lightness and bolster the presence of the light, so unique to Cadiz.  Behind the viewing deck,  work was carried out on the party wall with the Bishop's House, where a shell limestone wall was built in keeping with the materials used for the cathedrals.  The wall thus provides a backdrop for the viewing deck and merges the two parts together.
Horario:
Admission free. Check for times of performances
Tarifas:
Admission free. Check for times of performances
Dirección:
Avda. Campo del Sur (Acceso adaptado)
Perfil de Facebook:
https://es-es.facebook.com/visitcadiz
Perfil de Twitter:
https://twitter.com/VisitCadiz