Central Market
Categoría:
Monuments and places of interest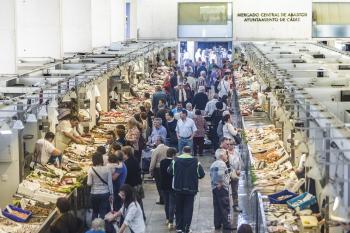 The Cadiz Central Market was designed by Torcuato Benjumeda, who devised a Neoclassical rectangular quadrangle as a Doric arcaded market area.  It stands on the site of the market garden of the Monastery of Los Desclazos, now the square known as Plaza de la Libertad, which was disentailed in the decade of 1830.  The old market of the Plaza de la Libertad was opened in 1838 and remained practically untouched for a century. In 1928, the market was refurbished, under the aegis of Mayor Ramón de Carranza, thanks to which the building in the central space was constructed.
In October 2009, the Central Market reopened it doors after three years of intensive remodelling. Once the refurbishing work was completed, which has kept the original design of the complex, the market has 57 fruit and vegetable stalls, 54 fish and shellfish, 44 meat, 7 grocery, 4 bread and pastry, 1 olive, 1 stall selling bags and paper, 1 fish articles and a cafe located on the first floor. Every day of the week, there is also the Rincón Gastromómico or Gourmet Corner, where you can taste local or national or international delicacies. The remodelling of the Cadiz produce market provides lights and functionality to a building brimming with history, and  overlooked by houses and watchtowers, which creates a truly unique setting.
Horario:
From 9.00 a.m. to3.00 p.m. Monday to Saturday
Rincón Gastronómico opening hours
Monday: From 9.00 a.m. to 3.30 p.m.
Tuesday, Wednesday and Thursday: 9.00 a.m. to 3.30 p.m. and from 6.00 p.m. to 11.00 p.m.
Friday: 9.00 a.m. to 3.30 p.m. and from 6.00 p.m. to midnight
Saturdays: 9.00 a.m. to 4.000 p.m. and from 7.00 p.m. to midnight
Servicios:




Dirección:
Plza. Libertad, s/n (Acceso adaptado)
Perfil de Facebook:
www.facebook.com/MercadoCentralDeAbastos
Perfil de Twitter:
https://twitter.com/VisitCadiz